---
Below you will find names of other individuals or companies that may be of service to you that we have observed as being Professional in their work. This is an introduction only. No Guaranty or Warranty of the quality of services provided are expressed or implied, however you are welcomed to contact these individuals on your own and schedule their services if desired.
LANDSCAPING & IRRIGATION  
Platinum Lawn Solutions  – Joshua Vazquez   407-256-8585  Joshuavazquezpls@gmail.com
Home Improvements
TDC Construction
Tom Carnicella
407-401-4720 cell
TCarnicella@cfl.rr.com
Viking Home Improvement
Luke Chesley
lchesley@cfl.rr.com – Email
407-492-2366 cell
Florida Contractors – Miami Home Improvement               http://www.esfs.org/florida/miami
Handyman – Remodeling & Repairs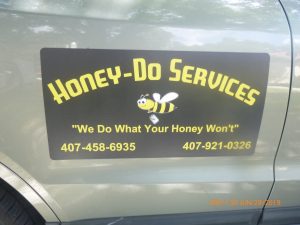 HONEY-DO SERVICES, LLC (SEMINOLE COUNTY SPECIALIST)
Call John & Elizabeth Richtmyer at 407-458-6935 or direct at 407-921-0326
Licensed & insured 160000087678
ALLPRO Contracting LLC.
Peter Chegini – President
EMAIL: Allprocontracts@gmail.com   WEBSITE: www.AllproContracting.com
Express Insurance,  Penny Prevatt
321-765-8002 x203
Allstate
Steve Strassman
407-333-4553
John Feirick Insurance:
This guy will make your Insurance search fast & easy. Call John at
407-796-3881
Commercial Real Estate Appraisals
Dan Peele, ASA,

 Member American Society of Appraisers
State Certified General Real Estate Appraiser RZ 887
Residential MZ Appraisal Service
Deborah Levinson
407-766-0815
allthelevers@aol.com
Residential Appraisal Experts
Kelly Kellog
407-644-8885
Real Estate Attorney – Short Sales
Kaplan Law Firm P.A.
Jeffrey Kaplan
407-706-6700
First Advantage Title
1750 W Broadway S 104, Oviedo 32765
Nicole Llenza
Office: 407-977-2800
Fax 407-977-2009
nllenza@1advantagetitle.com
Universal Land Title, Inc.
LeeAnne
601 N. Magnolia Avenue
Suite 200
Orlando, FL 32801
Office Phone 407.345.0774
eFax 407.581.1181
Fax 407.422.8037
G.A.G Pest Control, Inc. Greg Goetz  Office Phone 407.249.8111
 –Swimming Pool
Looking for separate swimming pool inspection from a pool specialist?             David Swart @ CLEAR BLUE Pool Care. 407-349-2285
Palm Tree Pool Supply & Service, Inc.                                                                           Cody Nordine /  614-674-9461                                                                                          Paul Nordine / 407-670-4600                                                                                              palmtreepoolsupply@gmail.com   407-454-2267  
Concerned about pool leaks?  Aaron's Leak Detection
Call Aaron Direct: 407-924-9888  www.aaronsleakdetection.com
Full scuba inspection, plumbing pressure testing and use of highly specialized electronic equipment!
Mortgage Lenders
Stacy Luna,Senior Mortgage Specialist
407.832.3729
  Office:
407.302.838
                        1145 Townpark Avenue Suite 2255 ,  Lake Mary, FL 32746
Synergy Mortgage Services:
Clarissa Thomas
Email: clarissa@smsorlando.com
Direct: 407-421-7395
Office: 407-359-1255 x104
Fax: 407– 359-1232
Apply on-line: www.smsorlando.com
FBC Mortgage Company:
John Edmead
Email: jedmead@fbchomeloans.com
Direct: 321-303-4769
Office: 407-681-3863
Fax: 407-404-5337
Apply on-line: www.OrlandoHomeLoans.com
The Largest Independent 203K Lender:  ProspectMortgageDirect.com/203K
Roland's Electric – 407-832-8008
Big man Movers http://www.bigmanmovers.com/
HVAC- Air Conditioning & Heating
Technology A/C Man – Commercial & Residential,
service, maintenance, repairs and Sales
Jimmy Greer   321-460-0113
Odor Removal

For smoke, mildew or pet odor removal, visit https://www.orlandoodorremovalservice.com/
Call Jimmy Greer for a referral  321-460-0113
ATLANTIC PLUMBING- Leroy Wilson- Master Plumber     407-332-9187
Short Term Housing
Marriott Hotels/Suites
407-513-9000 Residence Inn
407-277-7676 Courtyard
407-243-6100 TownPlace
Monthly from $990/month
Larry's Custom Cabinets
407-247-9181
Carson Bryan
407-947-9762