---
What is an Accessibility Inspection?
An accessibility inspection covers the most common technical accessibility deficiencies and barriers including:
parking;
building entrances;
route of travel and walking surfaces;
ramps, curb-cuts, and curb-ramps;
clear floor space for wheelchair maneuverability;
protruding objects;
drinking fountains;
restrooms; and
elevators.
This inspection service may be ordered in conjunction with a Level-One Commercial inspection or offered as a separate, stand-alone service. Every project is different.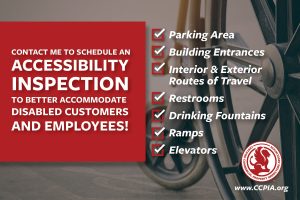 About This Accessibility Inspection Report
Various laws around the world require public accommodations to provide goods and services to people with disabilities on an equal basis with the rest of the general public. Businesses benefit from the patronage of all people. Those who own, lease, lease out, or operate places of public accommodation or commercial facilities should have as a goal the identification and reduction of physical barriers to this patronage. This inspection report will help identify possible accessibility deficiencies in existing facilities.
The Americans with Disabilities Act is a civil rights law that was enacted in 1990 to provide persons with disabilities with accommodations and access equal to, or similar to, that available to the general public. Title III of the ADA requires that owners of buildings that are considered to be places of public accommodations remove those architectural barriers and communications barriers that are considered readily achievable in accordance with the resources available to building ownership to allow use of the facility by the disabled.
The obligation to remove barriers where readily achievable is an ongoing one. The determination as to whether removal of a barrier or an implementation of a component or system is readily achievable is often a business decision, which is based on the resources available to the owner or tenants, and contingent upon the timing of implementation as well. Determination of whether barrier removal is readily achievable is on a case-by-case basis; the United States Department of Justice did not provide numerical formulas or thresholds of any kind to determine whether an action is readily achievable.
Overview of the Americans with Disabilities Act Accessibility Guidelines (ADAAG)

As required by the ADA, the U.S. Architectural and Transportation Barriers Compliance Board promulgated the Americans with Disabilities Act Accessibility Guidelines. ADAAG provides guidelines for implementation of the ADA by providing specifications for design, construction, and alteration of facilities in accordance with the ADA. These guidelines specify quantities, sizes, dimensions, spacing, and locations of various components of a facility so as to be in compliance with the ADA.

Variable Levels of Due Diligence: For many users, especially those acquiring or taking an equity interest in a property, a complete accessibility survey in accordance with ADAAG may be desired. For other users, however, an abbreviated accessibility survey may serve to identify most of the major costs to realize ADA compliance without assessing every accessible element and space within and without a facility, and without taking measurements and counts.
Any accessibility survey should be based on ADAAG, however. There are three tiers of ADA due diligence, which may be supplemented or revised in accordance with the user's risk tolerance level for ADA deficiencies and the resulting costs to realize compliance. These tiers are:
Tier I-Visual Accessibility Survey (a limited scope visual survey, which excludes the taking of measurements or counts);
Tier II-Abbreviated Accessibility Survey (an abbreviated scope survey entailing the taking of limited measurements and counts);
Tier III-Full Accessibility Survey in compliance with ADAAG. ADAAG provides guidance only concerning federal requirements for ADA compliance.
Some states and localities may have additional compliance requirements that will not be addressed by any of the levels of due diligence enumerated in this document. The user may desire a site-specific accessibility survey, in some instances.
The survey for ADA compliance offered by AmeriHome Advisors, LLC is a Tier II-Abbreviated Accessibility Survey

Who Must Comply
Most laws regarding accessibility regulate only new construction and remodeling and do not oblige existing building owners to reduce barriers if such reduction is not readily achievable. This report does not cover all of the possible local, state, provincial or federal requirements regarding accessibility or barrier reduction. The information presented within this report was derived from a visual-only inspection of the property, and is intended solely as informal guidance, and is not a determination of legal rights or responsibilities.
15.3 Stand-Alone Inspection Service Option
This report is offered in conjunction with a complete commercial property inspection or offered as a separate, stand-alone inspection service.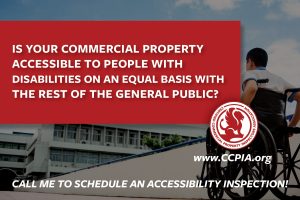 Information on this page is provided with permission from CCPIA. Click on the logo below for a direct link.